Boys Basketball:Championship or Bust
Brandon Garcia, Editor in Chief
November 6, 2019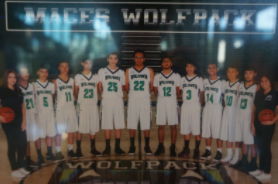 From not even making it to the playoffs, to making it to the semi-finals last season and losing it all by one point, this 2019-2020 Boys' Basketball season will "be different now that we have more experience and now that we know how the playoffs are gonna be like," Luis Lopez, a varsity point guard and a junior, said.  
The team is willing to give it their all this season."Once the season starts we will practice every single day from 3 to 5 after school," Hernan Moreno, a varsity all-around guard and a junior, said.  The team is hard-working. "During practice the entire team is serious and focused, and we know there is no time for messing around if we want to win the championship," Moreno said.
 Sometimes they slack off, but they are going to cut out any silliness from practice. "Most of the time we were focused but there were moments when we do mess around in practice, but this year we'll be more focused on what we want to improve on," Kenneth Lara, also a varsity point Guard and a junior, said. 
The team is giving it their all and is focused on getting the championship this year. "Most of us are committed to the program and that helps us work better as a team," Moreno said.
The team still has a few flaws that they can improve. "When our play breaks down we don't remain patient and tend to rush things." Lopez, said. Moreno believes that there is always space for improvement.   "Sometimes we miss things in the play and don't pay attention and that could mess up our timing," Moreno said.
  Still, the players believe that their team has what it takes to take them to the championship, "We have the talent and commitment that we just need to put together to take us to the top this season," Moreno said. The team shows that they can do it no matter what happens. "The team has the talent and they put in the hard work but no matter how this season turns out the main point of the game is basically going out there and enjoying a game that we all can enjoy," Lopez said.