Color Guard Marches into a New Season
Watch your heads! Flags are flying sky high as the first official Winter Guard season takes off. Winter Guard is a rendition of color guard, but the choreography is based on their own music, involves more dancing, and performances are usually performed indoors.
As the team practices after school, many of them look forward to building strong team chemistry and their new routines. Sylvia Cantaron, one of the captains of the winter guard team and a senior, said, "The team is crazy and unified. They've become more of a family rather than just a team." Cantaron views this new season as a great way to build a great foundation for future teams.
A new member of the winter guard team, Emily de Los Santos, a sophomore, said, "The team is very welcoming and nice. I'm looking forward to meeting everyone and building strong relationships with them." Many winter guard members are looking forward to the events they are getting to participate in. "I am excited to begin cheering for winter sports like soccer and basketball. Also, being able to participate in the New Year's Parade," Giancarlo Saenz, a senior, said. 
Competition begins late January and the team is training hard to place well. "I am a very competitive person, so I am excited to start competition," Saenz said. The purpose of the winter guard competitions is to see how well a team can tell their story with music, dance, and costumes.  "Hopefully, we place high on the leaderboard during competitions," Carla Ortigoza, one of the captains and a junior, said.
Many performers have seen joining winter guard as a great way to break out of their shells or broaden their horizons. "I've been able to interact with more people and build new friendships," Diana Oliva, a junior, said. Cantaron said she discovered that she was actually way more social than she thought she was. Ortigoza said, "I just hope that we can grow stronger as a team and that the new girls develop a love for the dance as much as I have."
About the Writer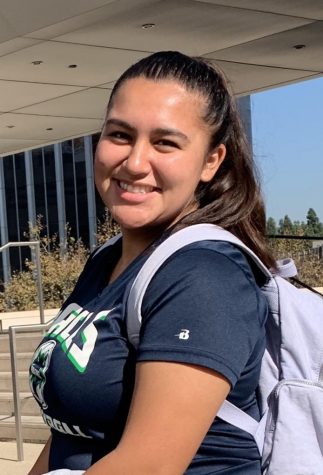 Destiny Juarez, Reporter
Destiny Juarez has been a Wolfpack Times reporter since 2018; she joined in hopes to write stories that incite change in her community and voice the common...