Star Runner, Kellie Mena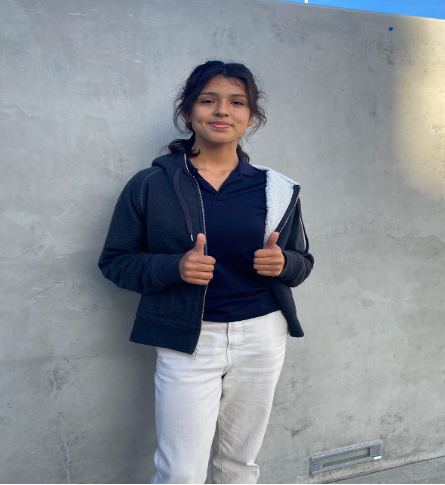 Freshman Kellie Mena's first race was full of nerves flooding her body. The moment she heard the gunshot to start the race, she knew it was time to put everything behind her. At that moment, she felt as if she was going to burst into tears because of how much anxiety she had. "After I started I knew I got this and could finish and win my first race," Mena said. She went in with full confidence and positivity, although not knowing if others were going to be faster.
xMena found interest in cross country at the beginning of her freshman year and was on the varsity team this season. In her first season, Mena has formed new bonds and is continuously trying to do better. Mena has gotten the motivation and support from both her family and coaches. 
Her inspiration mainly comes from her brother who used to be a runner. Mena said, "I wanted to do what he did because he also joined the team in high school." Mena says he does get a bit jealous sometimes, because she is faster than he ever was in high school, but it's something they can bond even more over and gets full support from him. Her parents are her biggest supporters. They get Mena whatever she needs in order to get where she wants to be, on and off the course. 
Throughout the whole season, Mena says her best time was 22:13. Mena has three years to go and will continue to do her best. She is most looking forward to improving her performance and getting faster. 
"Joining a team and having teammates is even better than the sport itself. We bond by complaining about runs and have fun laughing about the things we see at meets," Mena said. Her teammates have been supportive and have grown to not just be her teammates, but being people she has a bond with and spent a lot of her time with because of all the practices and meets. 
Along with her team, Mr. Turner and Ms. Torres are big advocates for Mena and the rest of the team. "I think the best thing I have taken away from my coaches is knowing I have to push myself to get better. It's so easy to just give up and they've given me that extra push to not give up and impress myself with what I can do." Ms. Torres said, "Kellie, even though it's her first year, she is one of our best runners because of how dedicated she is. She ran the marathon last year and plans to run throughout highschool." 
Looking towards the next couple months, Mena will be participating in the wrestling team, SRLA, and track and field team.