Movie Review: The Turning (Characters)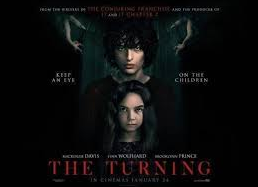 "Keep an eye on the children." The Turning is a horror film that was released on January 24 and an adaptation of the ghost story The Turn of the Screw by Henry James, which was created in 1898. The 2020 horror film took place in the 1990s, starring Mackenzie Davis as Kate Mandell, Finn Wolfhard as Miles Fairchild, Brooklynn Prince as Flora Fairchild, and Barbara Marten as Mrs. Grose. 
[spoilers from here on]
Kate Mandell, who is played by Mackenzie Davis, is a teacher who leaves her job to become a governess for a seven-year-old girl. This seven-year-old girl is abandoned by her previous instructor. 
Lorena Soto, an ELAC student, believes that Kate was a bad teacher who could not control her own students. However, Alexa Pulido, an eighth-grader, disagrees. Kate was actually her favorite character in the movie because "she was mysterious and the main character." In the end, Kate was either a bad or good character to many. 
Finn Wolfhard played Miles Fairchild, who is a fifteen-year-old and the brother of Flora Fairchild. Soto said, "Miles was very snobby," indicating he was her least favorite character. She also said, "Finn Wolfhard should not have played Miles because he does not give a creepy vibe, but a more reasonable vibe." Pulido believes that Miles Fairchild was the most confusing character in the movie.
The seven-year-old girl, that Kate had to tutor, is named Flora Fairchild, who is played by Brooklynn Prince. Soto and Pulido believe that overall both kids were mysterious and creepy. Pulido said, "I felt that at first, she was acting innocent and then would become all evil at the end, but it turns out she was just completely scary." Soto also believes that although she started out innocent, there was something about her that didn't seem like it anymore at the end. 
The servant who is named Mrs. Grose was Soto's favorite character, "because she's lived in the house the longest and knows most of the house's mysteries and problems." On the other hand, she was one of the least interesting characters to Soto because she was very bland and, she does not realize how both of the kids are acting, which is also ignorant of her. 
In the end, the movie ends with a nail-biting cliffhanger that just makes the audience want to see what happens next! All characters just added onto the suspense and strangeness. Soto generally believed that all characters were very weird and eerie. She also predicted that the whole movie was just a representation of what was going on in Kate's head, which led to her being crazy while Miles, Flora, and Mrs. Grose are just figments of her imagination. Overall, this movie is enjoyable for those who like cliffhangers and continuations of stories.