*Spoiler Alert* Jumanji: The Next Level Characters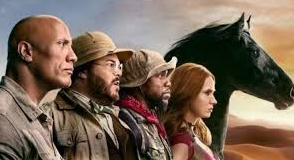 Jumanji: The Next Level is a continuation of Jumanji: Welcome to the Jungle, where Spencer, Martha, Fridge, and Bethany are playing a videogame and are accidentally sucked into the game. While on their journey, they found and teamed up with Alex. In Jumanji: the Next Level, the same characters are shown along with a few new ones. Some new characters are Eddie and Milo. After entering the video game in both movies, the characters enter different bodies with different names. 
After this, Spencer, Martha, Bethany, and Fridge choose different paths but keep in contact. They arrange a meeting to get together but when Spencer doesn't show up they realize that he went back into the game. One of the reasons why he went back into the game on purpose was because he felt he had a purpose in the game. Once in the game, he becomes Ming Fleetfoot. 
Martha's character in Jumanji is Ruby Roundhouse. Ruby's weakness is venom and her strength is dance fighting. Sandra Luna said, "My favorite character was Ruby Roundhouse because she seemed like she was in charge and knew what to do." In the first movie, Martha and Spencer started dating but in the second one they break up and eventually find their way back to each other.  
Bethany's original character that she chose in the first movie was Professor Sheldon Oberon(Shelly), but the game malfunctions and she is not able to go into the game. She then looks to Alex for help. When they are finally able to get in the game, Bethany turns into Cyclone which is a black horse that is only understood by Finbar. Instead, Fridge turns into Professor Sheldon. Alex turns into his character from the first movie, Jefferson McDonough. 
New Characters:
Two new characters in Jumanji: The Next Level are Eddie Gilpin and Milo Walker. "I liked the new characters because Eddie and Milo were really funny," said Sandra Luna. Eddie Gilpin is Spencer's grandfather and Milo's former friend. When Eddie is in the game he turns into Dr. Smolder Braveston, Spencer's original character in Jumanji: Welcome to the Jungle. MIlo turns into Franklin Finbar, which was the original character of Fridge. Overall, this would be a great movie to watch with family or friends.