Vanquish Domestic Abuse
1-800-799-SAFE is Here to Help
As Americans are urged to remain indoors, household problems arise. After all, isolation is an abuser's best friend. Since the beginning quarantine, California police departments have reported a drop in domestic violence-related calls.

A decrease in domestic violence-related calls could mean that victims feel unsafe to report on the violent issues occurring at home. That, or they simply feel as if they have no other choice but to remain locked indoors and wait it out. A MACES freshman who asked to remain anonymous for privacy reasons, shared they have noticed an increase of stress in their home due to stay at home orders. "It's difficult because any wrong move [can get me] into trouble… I have to be cautious [about] what I do… thankfully it hasn't gotten to the point where I'm being physically hurt," they said. 
Being stuck at home with family for a long period of time can become a recipe for stress, and isolation with an abusive family figure could endanger other inhabitants. In an article titled, "How to Help Domestic Violence Victims during the Coronavirus Pandemic"  published by mashable.com and written by Anna Iovine, she writes, "Isolation from loved ones, constant surveillance, strict rules, and restrictions on basic necessities, are all tools for abusers and can flourish during [quarantine]." 
Although abusive figures may be taking advantage of stay at home orders to torment other inhabitants, victims still have a way out. Victims may hesitate to report abuse during the course of self-isolation, but there are many free resources that allow victims to report abuse or discuss the abuse with or without having law enforcement involved. That is when free resources like the National Domestic Violence Hotline come in handy.
The National Domestic Violence Hotline (NDVH) is here to support victims in need.  The NDVH is available in over 200 languages and offers help for victims with or without having the police department involved. "Given the spread of [COVID 19], we've taken steps to keep our staff safe. We're still here 24/7. Call 1-800-799-7233, or if you're unable to speak safely, you can log onto thehotline.org  or text LOVEIS to 22522," the NDVH tweeted.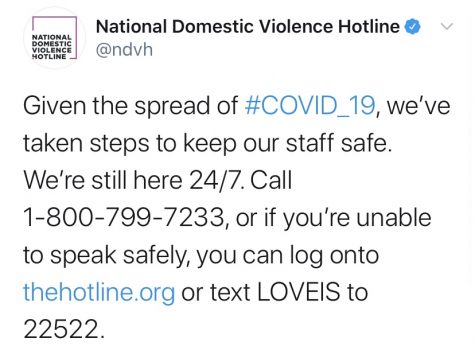 At this time of uncertainty, It is recommended to constantly check in on friends and family. Whether it be via phone call or video call, it is important to discuss the many options available for reassuring safety.
"
…Some ways you can cope with domestic violence [are] talking to a trusted adult [or] searching for help [in order to] realize that you aren't alone… you have to speak up,
— Anonymous
RESOURCES 
If you feel as if someone is suffering from domestic violence in your building or nearby, or if you are suffering from domestic violence, and you don't wish to get law enforcement involved, visit the hotline's website or give them a call at 1-800-799-7233. If you feel as if you are not able to speak safely, there are chat services that you can receive on the website (thehotline.org) or by texting LOVEIS to 22522.
If you have experienced sexual abuse, call the free, confidential National Sexual Assault Hotline at 1-800-656-HOPE (4673), or access the 24-7 help online by visiting online.rainn.org.
If you are a student at MACES, you can consider turning to your counselor if you need a trusted adult to confide in.