Welcome back to Campus Class of 2021!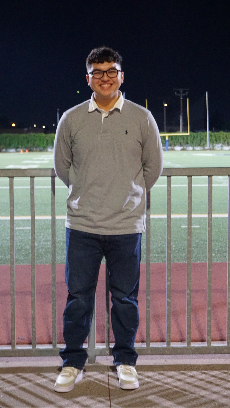 This homecoming will be very special for the students, staff, and for alumni of 2021 who are returning to campus. One alumni who is looking forward to homecoming is Cesar Chacon. Chacon is excited to be back at the campus that has gifted him with many memories and friendships.
Chacon enrolled at MACES as a sophomore. Transitioning to a new high school was not difficult for Chacon due to him having friends who are already attending MACES. Chacon had some nervousness on the first day but ended up fine. Being at a new school did not hold him back from joining clubs and sports. Chacon joined the Interact club, the class of 2021 club, and was part of the volleyball team. Chacon stayed in the same clubs and sports during his junior and senior years. Even though Chacon was involved in all of these clubs and sports, balancing school was not an issue.
Cesar was very happy to have many teachers who helped prepare him for college. One of the two teachers who helped prepare him for college was Mr. Bautista. Chacon said, "He was a great teacher that prepared me for the AP exam perfectly and was always checking up on his students." Cesar learned many skills in his class that helped him with college. Cesar ended up keeping the analyzing skills that he learned. Cesar said, "The way we analyzed prompts and how to prepare ourselves for them came in handy." Cesar had a great time and made many memories in APUSH. Cesar recommends AP U.S. History to future juniors. Cesar finished by saying, "It may seem hard at times, but you'll have fun!"
Bautista felt honored to be one of the teachers that helped prepare Cesar for college. Mr. Bautista has been teaching for 16 years. He has taught 12 years of middle school and four years of high school. Bautista has enjoyed the four years at MACES, stating, "I love teaching here at MACES, and I like how every student has respect for one another." Bautista feels like the first year he taught at MACES did not go well. Bautista thinks his story helped prepare his students for college. Bautista finished off by saying, "The class of 2021 was a remarkable group."
Another teacher who helped prepare Cesar for college was Mrs. A. Mrs. A helped Cesar with information on college such as what to avoid and what not to avoid. Like Bautista, Mrs. A wrote Cesar a recommendation letter. Cesar learned many things in this class such as memorizing terms and other information by taking notes. Cesar enjoyed psychology and liked how it was interesting. Cesar recommends her class to any students. Cesar said, "Mrs. A was another fun teacher to learn from!"
Mrs. I feel happy to have prepared for college. Mrs. A has been teaching for three years, and all three years have been at MACES where she enjoys teaching. Mrs. A plans for her students to have effective writing skills, and effective memorization skills. Mrs. A said, "This is essential since there is a lot of writing in college." When asked how Cesar was as a student, she replied, "Cesar was a student that liked to interact and help other students even when he was not supposed to." She believes she did an excellent job in preparing Cesar for college.
Cesar is now attending El Camino College and is majoring in Political Science. Cesar believes that he would not be there without the ability to analyze questions and balance a social life with academics. Overall, Cesar is proud to have attended MACES.