APUSH Sees Hamilton at the Pantages
On February 9, Mr. Bautista's AP US History students were given the opportunity to go see the popular Broadway play Hamilton at the Pantages Theater in Hollywood. According to Next Tv, approximately 2.7 million households streamed the recorded version of Lin Manuel Miranda's Broadway show: Hamilton on Disney+; which a few students got to see live. "Students were not just watching any play but the biggest Broadway play ever in America, and it so happens to be written and performed by a cast of color." APUSH teacher, Mr. Bautista said. 
For the cast and writer to be people of color was so important since 96.8% of the students here at school are people of color, according to the California School Dashboard. This show has a diverse original cast which is rare in most Broadway shows. Students were allowed to submit questions that would then be answered by the actors. The question submitted by Mr. Bautista's class was: What is the importance of people of color in roles like this in history? 
This question was answered by Broadway actor Nicholas Christopher who played Aaron Burr during the show. He said, "People of color, we are a part of this country and a part of history and we have to own that." Broadway actor, Yvette Lu who is a swing actor or an actor who can play many different roles as needed, also circled back to this question when asked about their experience auditioning for Hamilton. She said, "I could have had a little bit more confidence in myself to show that I belong here [as a person of color]."
This experience was very magical for many students who had never been to a Broadway show because they not only got to see the play, but were also able to have their questions answered by the actors who just performed for them. Junior and Wolfpack times reporter, Faviola De Avila and also Junior and Wolfpack Times reporter, Wendy Madrigal, were two of the many students who experienced a Broadway show for the first time that day. "I had never been to a play and it was so special," De Avila said. She also said that many of her friends were seeing a show for the first time too. 
Madrigal was very happy to know that she would be able to go on a field trip again after at least two years. "It was so exciting to be able to go on a field trip after so long," Madrigal said.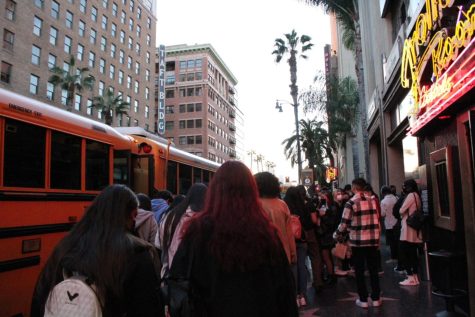 As for Bautista, he had a fuse of emotions about going on this field trip. Overall, he was excited about the opportunity that he could bring to his students and wanted them to be able to review some AP US History content in an "engaging and memorable way" since they were "not watching just any play but the biggest Broadway play ever in America." 
However, he also felt worried, nostalgic, and sad. This was the first field trip he has organized in five years and with rising COVID cases, it was unclear if students would be able to see the play in February. This field trip also took him down memory lane with his APUSH students from 2020 who were supposed to see the play but did not have the chance because of the pandemic. 
Mr. Bautista has much sympathy for the class of 2021 who missed out on this opportunity but ultimately hopes that his students "really really really enjoyed being in the room where it happens".