AP Readiness Held on Campus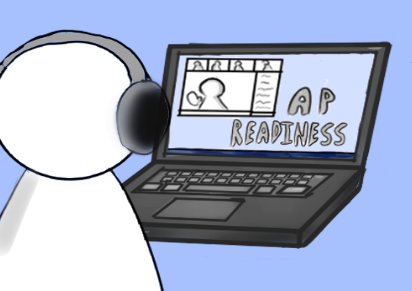 AP Readiness is a Saturday program run by UCLA once a month on Zoom and on campus at MACES to help prepare students for the AP exam. "They offered some valuable information that I can apply to my classwork as well as in the AP exam," said Lizeth Velazquez, a junior who attended the AP Readiness Humanities session here at MACES. 
     Students can sign up to the program by filling out a google form and media release form available on the UCLA website (https://centerx.gseis.ucla.edu/ap-readiness/). During the AP Readiness sessions, students receive a schedule through email of all the courses. Students may join any course they want, and switch to a different course halfway through the session. 
     At MACES, students were invited to come join the AP Readiness sessions in the MPR or library to help them study in better conditions. Snacks such as chips and donuts were also provided for students, and teachers were also there to help students with any issues. "They were very helpful; they helped students that couldn't get in and gave options on how to get in," said Darlene Rendon, a junior.
     The courses offered in the AP Readiness session had several topics for different subjects, such as AP World History and AP English Literature. The topics for the classes covered different parts of the AP exam, like essay writing or analysis of a text. Karla Martinez, a junior, recalls that she sat with her study group and participated in activities such as note-taking and Nearpod for her AP English Language and AP US History class. 
     There were mixed experiences among those that participated in the AP Readiness sessions. Some had a positive experience, such as Rendon, who said, "They were fun and gave every student a chance to answer or read if they wanted to." Meanwhile, other students such as Martinez believed that the activities in the session were not as engaging, but could be improved. "I would say that something more interactive that could make the students retain information more would help."
     Overall, the AP Readiness session was a varied experience for students attending, but may still help people struggling with a topic, Velazquez said. "I think that students should at least give it a try, because the information given is really useful and can help clarify a topic a student might be stuck on."