Baseball: A Sport Full of Memories
Take a look through ball players' perspectives of a rocky season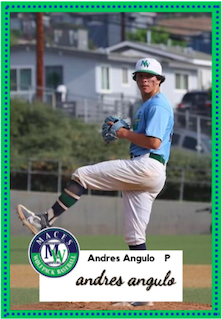 Baseball is a simple game that many love. Nine players are scattered around the field, one being the pitcher that throws to the batters. The sport itself has changed since its establishment. Many schools across the globe have the option of playing baseball. MACES is currently D1 in baseball and plans on continuing its success to winning a Championship.
There are currently four seniors on the varsity team. One of them is the team captain, Andres Angulo. Although the baseball team had a rough start to the season, they quickly made a turn and went on a winning streak.
 Angulo believed the team needed to take the sport more seriously. "We started taking our practices more seriously and started playing more together as a team," Angulo, a senior, said. Another player who agrees is Alejandro Soto. 
He is a junior who decided to have the right mental approach before games. This allowed him to build confidence. His confidence allowed him to do well in these games. "Having a good mental approach to the games allowed me to build confidence, and going undefeated in the easter tournament boosted the team's confidence," Soto, a junior, said.
Being part of a team can change a person for the better. Playing on the team has taught Angulo to be more responsible. "It also allows me to connect with my fellow teammates since I am with them every day," Angulo said. 
Another player who is positively affected is Andres's brother, David Angulo. He is a freshman who has gained confidence with his time on the team. "Being on a team with my peers has changed me by making me a kinder, and more confident person," Angulo, a freshman said. Something that all these players have in common is that they are all positively affected by being a part of a team, and they all set goals for themselves. 
Setting goals is great because it pushes people to push themselves to be successful. For the baseball team, it's the same concept. Every junior is setting goals for themselves to become a good player and an even better person. Soto is heading into his senior year and there are some things that he would personally change. "I would personally want to play my hardest and also contribute the most to the team," Soto said. He wants to end his school year on great terms with a championship.
Similar to Soto, Angulo also wants to be a better player to help the team. "Helping the team win is very important, so I plan to continue to work and strive to be a better player," Angulo said. His role model to continue to do his best is his brother. "My brother inspires me to do my best, and I know that he is going to continue his success in college," Angulo said.
As the season ends, many seniors are committing to colleges. Some are attending the University of California Los Angeles, California State University of Long Beach, and many more.