Video games require in game purchases, and it's not fair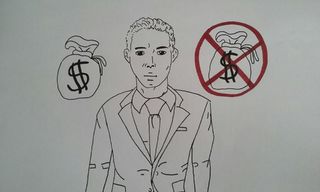 The topic of debate among competitive players is if pay-to-win is fair. A pay-to-win player pays for in-game items that can either boost their stats above others or shorten the time needed to advance days before the rest of the players. Games such as the mobile app Clash of Clans operate on players spending money for limited cards or receiving resources.
"Game modes like MyTeam in NBA 2K are unfair to people who don't want to spend money. I spend hours trying to get one card, while someone just has to pay to grab it," said Christopher Ascencio, a senior. NBA 2K has different player ratings, so while you may have an average card, a player that was to spend more money on the game may have a limited edition card that can wipe out a normal player's team. The limited amount of time that a card is out for also makes it difficult to get because it takes tons of time to earn it and once it's gone, it's gone.
Companies allow in-game purchases because of their source revenue. However,  companies get greedy and just focus on the money. "What suffers is the game gets unplayable because all the other players paid to be better meanwhile you are suffering with low upgrades," Ezequiel Brito, a senior, said. Games become unplayable because of the imbalance between players who don't spend money and those who do. 
Video games become boring when the majority of players can't compete against those who spend hundreds of dollars. However, there are some games that allow the player to spend money in a way that does not affect the other players.
The popular video game, Genshin Impact, allows for in-game transactions but does not affect the balance of the game. This means players can pay for characters to help their team and can be used to help others who don't spend money. "Genshin can be quite a difficult game to play so obtaining powerful characters really helps but if I have none. There's a system that allows other players to help and benefits both players," said Kaylee Portillo, a senior. Developers such as miHoYo then use the money they earn either to make new characters or add more to their games for entertainment.