Once in a Lifetime Opportunity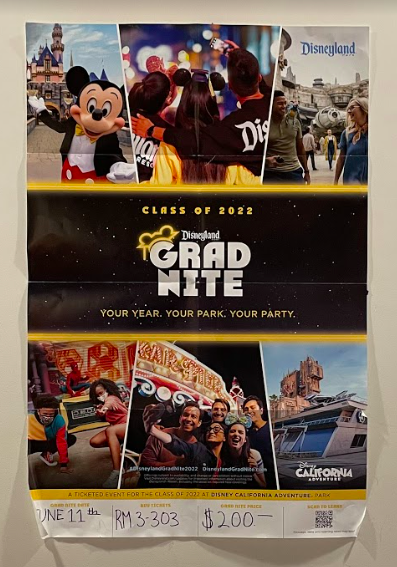 There has been ongoing news that the Class of 2022 will have a once-in-a-lifetime opportunity to attend Disneyland for their Grad Nite at a low cost, with many benefits included.
As it is known, Grad Nite tickets were $200. Now, this might seem like a lot, but there are a few advantages at hand that should be kept in mind. One of those advantages is the time seniors get to frolic among themselves in the theme park. "Students will leave MACES at 7:30 a.m. on June 11, and be taken to Disneyland Resort and Theme Park where they will receive a Park Hopper pass to enjoy until 12 a.m. At 12 a.m., students will enjoy extended park hours for graduating seniors only. These hours end at 4:00 a.m. on June 12. Students will then be taken back to MACES to be picked up by 6:00 a.m.," said Ms. Perfecto, co-advisor for ASB, class advisor for the Class of 2022, and 10th-12th grade science teacher.
What's another advantage seniors have that outweighs the cost of the ticket? Transportation seems to be one of them. "Students must go on the bus to and from Grad Nite, they are not allowed to use their own transportation," Ms. Perfecto said. Not only will seniors have the privilege to roam around the theme park's grounds after closing hours, but they will also benefit from not having to pay the amount of gasoline normally used when traveling to Disneyland.
Of course, not all expenses will be covered by the school. "Food is not included and students are responsible for bringing their own money for the event," Ms. Perfecto said. It's important for all seniors to remember to bring extra money for any items they plan on buying.
Reasonably, there might be a few parents who are worried about the time duration seniors will be allowed to wander around the theme park. However, there will be teachers there to keep an eye out for any trouble, so there's no need to worry. "The Chaperones include: Perfecto, Martinez, Navarro, Rincon, Benítez, and Marquez," Ms. Perfecto said.
A few seniors have spoken up about this event, and there are many that also believe that the prices for the tickets were fair. "Personally, I do believe the Grad Nite price tickets were reasonable because we are able to park hop but also get extended hours after the park is closed for seniors," said Alondra Trujillo, a senior and one of the school's former soccer players.
Many other seniors are enthusiastic about the idea of being able to end their last year of high school surrounded by peers. "I will be attending and I think since it's the last time everyone will be together as a class, it will be a great memory," said Hector Cardenas, Vice President of Class of 2022, Science Bowl, Computer Science Honor Society, Interact Club, and Marching Band member, as well as senior.
Not only will this be a memorable night for seniors, but this will also be an opportunity for those who have yet to experience the magical atmosphere of Disneyland. "I think Disney was a good place to have our Grad Night because there is a lot to do. Compared to other amusement parks, which are mostly rides, Disney has other activities to do as well. Also, having never been to Disney before I would rather go here than to any other place," said Crystal Hernandez, a senior and member of the Class of 2022 Club.